I'm writing this week's 5 Things from my multi-location vacation. Spent four days in Boston, a day in NYC, and now I'm in Seattle. That's how I do.

Traveling doesn't stop me from blogging though. So here are some things that are going on right now:
1 A ROCKIN BANANA AND BLURRED LINES - Jimmy and The Roots did it again. Taken a pop hit and made it amazing with classroom instruments. This time featuring Robin Thicke's "Blurred Lines."
My favorite part is the guy on the right hand side totally rocking out with a banana. What? Yes.
2 SEASON 3'S SHERLOCK PREVIEW - The brand new trailer for the BBC mystery drama, Sherlock, has just been released. And by far the best thing about this is Martin Freeman with a mustache and this meme Buzzfeed made.
He may be one of my favorite British actors ever. From Tim Cantebury to Hobbit to Dr. Juan Watson. Best.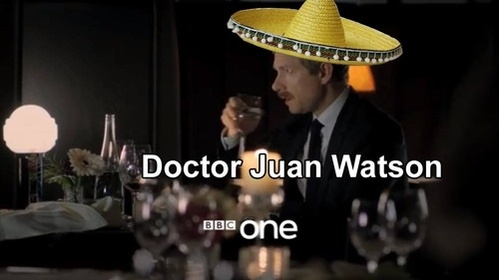 3 THE CONCLUSION OF SKINS - Right now I'm watching the concluding chapters of Skins. These two episodic featurettes tell the finales of some of the most beloved characters of the series. Effy's episodes were filmed beautifully. Cassie's story was absolutely great (and it may have made my heart hurt a little but in a good way). And now I'm watching Cook's episodes. It's good too, but in a unique way.
It's just interesting where each story has taken them and how each title is absolutely relevant to them.
Fire. Pure. Rise.
I like it. I'm sad it's over. But I like what they've done with it.
4 SUBWAY SYSTEMS ARE PRETTY MUCH THE BEST - With all the traveling I've done this past week, all I can say is that subways are awesome. I really appreciate the ability to travel within a city so easily without the burden of needing a car.
And it makes me really, really, really wish LA had a subway system in place. If you're not from LA, you probably have no idea how much traffic is an issue. It's pretty much stupid.
To emphasize this point, I wanted to share this lovely illustration of what our freeways would look like as a subway system. Isn't it beautiful?
5 EXPLORING THE CITY OF BOSTON - Wow. What can I say about such a beautiful, historical city?
My sister and I went to Fenway Park and Harvard University and Copley Square. Had lunch with an old friend (from over 10 years ago). Watched the Mariners almost beat the Red Sox. And raced on foot/transit in the Great Urban Race - a city wide scavenger hunt.
I was so moved by their accents and the rich history that I had to go home at one point and watch The Departed.
I probably could've spent more time just soaking in the sites and doing my typical introvert things (coffeeshops and window shopping). But we ended up hopping on over to NYC for a day. I mean, why not? We're so close - might as well!
East Coast is rad. … but I'm happy to be on the west coast again ;)