Happy Tuesday folks. It is COLD business here in LA. Probably not as cold as it is back home in Seattle (I hear it's snowing), but it's cold regardless. Gives me an excuse to wear my eskimo boots! Yay!

Anyways. Here's 5 Things going on with me:
1 TIME FOR A NEW MOLESKINE NOTEBOOK - I can't believe it's almost the new year already, which means time for a new Moleskine planner! Yes, I'm that much of a nerd that this excites me. What's even better is the fact that I had to graduate to a bigger planner. Between life notes, biz plans, client meetings, church notes, and random doodles I'm realizing that a regular medium sized notebook isn't enough for me anymore.
BOOM. Bigger planner equals seriousness.
One day I'll do a post about my random doodles. I draw a lot of robots. And t-shirt designs.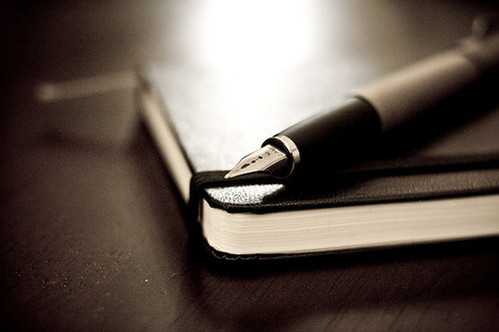 2 I SURVIVED THE BUSIEST WEEK EVER (JUST BARELY) - Considering I did Help Portrait and Disneyland back-to-back last weekend, and then headed straight into a full work week … I have no idea how I made it through alive.
Monday night meetings, crafting pizzelles on Wednesday, emergency model test shoot/headshots on Thursday (taking advantage of good weather when we have it!), taking on a new client with a rush ordered turnaround, trip out to IKEA for Help Portrait frames, random movie night Lauren's house (without Lauren present).
By the time I got to Saturday, I was EXHAUSTED. And I basically cancelled my weekend plans just to rest.
3 SPEAKING OF NEW CLIENTS & GRADUATING TO BIGGER THINGS - I got a great referral this week from my Wittlebee friend. Apparently I did something good to have her pass my info on to a fashion magazine! Sweet.
So I just landed a small job doing an editorial spread for a summer clothing. It's small, but it's different and for a print magazine that's in conjunction with Macy's. That's right. My photography just reached a whole new level of awesome. And on top of that, the clothes they gave me to shoot are all super cute. They even got Andi's approval. That's huge.
4 WINTER FINALES BE DOING IT GOOD - So last night, television reached a whole new level of BEST. Seriously, I haven't been that enthralled with TV in awhile, but since both HIMYM and Gossip Girl were nearing their ends it was time to wrap up stories.
And I'm not going to go into details because I don't want to spoil anything for you - but dude, seriously. The writers did it right. I literally was crying last night watching HIMYM. And then rewatched today and cried again.
Then I watched the series finale of Gossip Girl and was baffled by the revealing of who Gossip Girl was. I seriously was floored. Totally didn't see it or expect it to come. But it totally makes sense. But at the same time my mind is blown.
So yeah. TV. Thank you.
5 CHRISTMAS PLANS - I've been on the fence about travel plans. I've just been super tired lately and I kind of want to stay put for a little bit. And since my family doesn't really do much for Christmas, I'm going to stay here and spend it with my cousins in Burbank. A little Garcia family fun. What what.
And since my family does New Years big (all day Chinese Pot Stickers ftw), I'm going to go home for that and stay throughout the first week of the new year. I feel like that makes more sense than trying to get out sooner and stretching the trip out.
A little bit of home but not too much. Somehow LA feels more like home. Is that weird? Oh well. I'm not a Cali girl though.
In lieu of my missing Christmas back home, I bring you the BEST CHRISTMAS SONG IN THE WORLD.