Hello everyone. It is MAJOR SNOWY up here in the great Northwest. And it's beautiful but it makes me all the more thankful that I have a job that I can work from home. No driving in the snow for me!

Anyways. Here are 5 Things going on in my life right now.
1 I FROZE MY NAIL POLISH - So the other day my sister and I went to Walmart and I bought two new nail polishes. I've only really used OPI up til now, but I bought Essie just to try.
Anyways, I couldn't find it for a couple days until I looked in the freezer to pull out my sister's ice cream. There they were. Tied in with the Ben & Jerry's. Rock solid. Luckily they thawed out and now I'm rockin a new home manicure.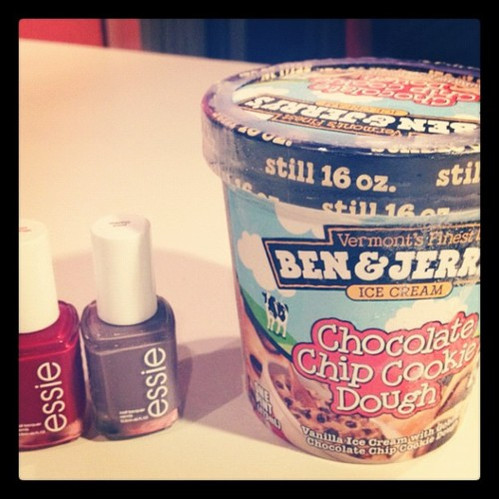 2 THIS VIDEO IS AWESOME - there's been a lot of parodies to the S#IT GIRLS SAY video, but this one is my favorite so far.
Tripp is hilarious. I also found this video and almost died laughing. Ridic.
3 JOHN MULANEY'S HAZ SPECIAL - Last summer while in NYC, my sister and I went to the Comedy Cellar and saw a few hilarious people. One of them happened to be John Mulaney, and I'm not going to lie. I laughed a WHOLE LOT.
I'm excited because now he's going to share that gift to the world with his new Comedy Central special (airing January 28th). The DVR is set. Also his sophomore album comes out on the 31st.
4 HOOK IS AWESOME - A friend posted on Facebook asking what everyone's favorite childhood movie was and I answered very quickly with "HOOK!" And for some reason, my two younger brothers have never seen it. So obviously, I make them watch it with me.
Dude. This movie is awesome. Chock full of great quotes and great moments.
And I didn't know that the kid that played Jack is the same kid who played the nerd in one of my all time favorite 90's Teen movie - Can't Hardly Wait. I have to add that movie to my "must watch" list ASAP.
5 NEW ITEMS - I added a couple new items to the store. Make sure to check it out and share with others! These are my favorite. The small magnets (although they look HUMONGOUS in this picture).
More to come!