Hi friends. It's been a very eventful week for me … so here I share. Enjoy!

1 HIKING - This past weekend I went hiking with some new friends in Malibu. It was my first time driving on the PCH during the day and it was beautiful … and the hike was gorgeous. Who knew LA had hidden nooks of nature like that?
Anyways. We went hiking and at the halfway point were some lovely waterfalls. And then the second half continued on with some serious rock-climbing business. Let me just say, dude I am SO OUTTA SHAPE. I need to fix that (note to self: hydrate and eat breakfast before trekking on a 4 mile hike). But, yeah more lovely outdoorsy stuff again in the soon future.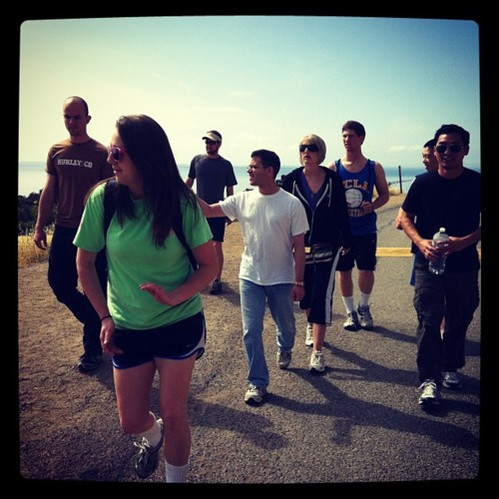 2 SEATTLE & ANGRY BIRDS - I thought this was hilarious. Someone put a HUGE Angry Bird on the Space Needle. Yeah!
3 HUNGER GAMES - On Saturday night I watched the Hunger Games with some friends and we sat there mortified and stressed out as we watched the film. Don't get me wrong - it was REALLY GOOD. Just really intense. Like super intense.
Three of us came to it pretty blind, without having read the books so we didn't know what to expect. The other two didn't like the movie at all, but I did. And now I'm super intrigued … I want to read all 3 books. And the strange thing about that is I don't read fiction at all. But I think I'll make an exception for this. I only hear really good things about the books. So I think that's next on my book reading list!
On a side note: I'd really like to learn how to do a Dutch Braid like Katniss. Please & thank you.
4 NEW PRODUCTS IN THE SHOP - Sometimes I like to have low key nights and just craft. It helps me unwind … you know, as some sort of creative outlet. So I made some new magnet sets for the store. You should buy some to decorate your fridges! Fun stuff!
This is my favorite set:
5 END OF 3RD GENERATION SKINS - Last night marked the last episode of the 3rd generation of Skins. No more Franks, Mins, Gracie, Rich, Alo, Matty, and Nick. I'm really sad because I'm all attached to this group. But this is the way Skins is. It switches out every two seasons. So you have to get used to that.
Anyways. I really like all the generations but I think I need to give this season another go. I'm a repeat watcher. My fav episodes this season are the "Rich" and "Mini" episodes. Although Gracie is still my favorite.
As for the finale … beautifully done. Great closing story arcs for all of them (much better than the 2nd generation finale). But yeah. Goodbye 3rd generation. You will be missed.