IT'S OFFICIALLY TREAT YO SELF DAY. And well, that's the best news ever. Anyways, here's 5 things going on with me:
1 IT'S STUPID HOT IN LA AND I HATE IT - You guys, I don't understand what is going on with the weather in LA. It legitimately has been 100 degrees this week and everyone is miserable.
And since I don't have AC in my car, I've been sweating bullets every time I go anywhere. It's so gross.
HOT WEATHER GO AWAY! It's supposed to be autumn! It's supposed to be sweater weather!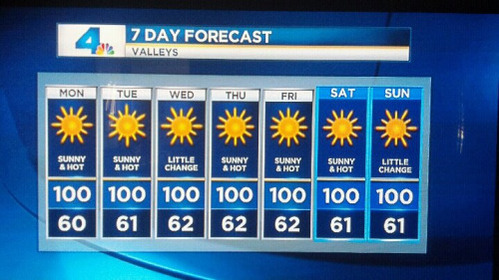 2 TONIGHT I MET A NINJA TURTLE - Life is crazy sometimes. I went to go babysit for a bunch of people tonight who were having a weekly Bible Study. Oh yeah, sometimes I nanny on the side because I'm pretty good with kids. Small detail.
Anyways, it was a crazy couple hours watching seven kids. But one of the adults there was a guy named Alan and when we met I immediately thought to myself "you're a ninja turtle."
Technically I know him from NBC's I Can Do That because I watched it all summer (he and Jeff Dye were hilarious). But it was just weird to be like "Hey, I know you. And you're here with these people every week to talk about Jesus. That's pretty cool."
LA is so weird like that. Since I've been here I've met and gone to community group with a Jabbawockee and also nannied for Jenna Fischer's neice (so weird seeing her in that family's wedding photos - I was like "is that Pam Beesly?").
But anyways. LA life. It's a little nutz.
3 THE CUBBIES ARE ON THEIR WAY - YOU GUYS! BACK TO THE FUTURE 2 MIGHT'VE BEEN RIGHT ALL THIS TIME! SO CRAZY!
Tonight the Chicago Cubs won Game 4 against the Cardinals and are advancing! They just might be World Series Champs! Who knows!
4 OKLAHOMA PLANS ARE UP IN THE AIR - As of now my plans to go to ORU's 50th anniversary has been put on hold. For the first time, Alaska Airlines is fling to OKC and I can finally go there but there's not enough passes to make it there and back and go home for Christmas.
It makes me sad because I really want to go and be there for all the festivities and see my friends. But I have no idea how to swing it. Anyone want to sponsor my trip to Tulsa? Please let me know!
5 TREAT YO SELF 2015 - It's been three years since Tom Haverford and Donna have shared the wonderfulness of TREAT YO SELF day to the world. And today is that day!!
First, watch THIS VIDEO to know what I'm talking about. Even if you haven't watching Parks and Rec. It's just so great.
And two, GO TREAT YO SELF.
I still need to do something too.