Hello friends. Happy Tuesday.

I've had a very restful day. It was kind of nice.
Anyways, here you go - 5 THINGS:
1 LAST COMEDIAN ON THE LIST - So this past weekend I flew home to Seattle to see a live Brian Regan show with my family. He's one of our favorite comedians (and his material is clean too - great for my little bro to listen to).
Of course, he was hilarious. Facial expressions and crazy voices - that's kind of his schtick. But it works!
And well officially, he is the last comedian on the list for my sister and I to see live. We've already seen John Mulaney, Aziz Ansari, Anjelah Johnson, and Jo Koy. ALL HILARIOUS. But I think my favorite by far is Jo Koy. I almost peed my pants at his show, it was that funny.
Anyways. Yay for live shows and laughing!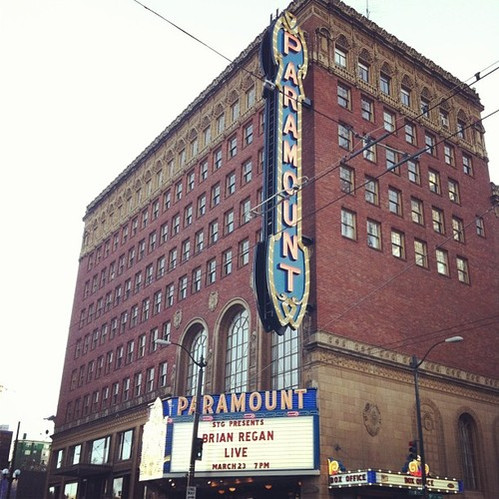 2 MINI SHOOTS WHILE AT HOME - Even though my trip was short, I still scheduled in three photo shoots. All three shoots included kids of some sort - and well two of those shoots were cancelled.
Apparently kids get sick easily. Or they fall and bruise their eye. Which is what happened to Baby Emma and Little Malachi. And well, I almost squeezed in a senior shoot while I was there but they weren't quite ready yet (he needed a haircut).
It's kind of nice to think that I can take my camera anywhere and jobs pop up. But at the same time I'm at the mercy of things like babies falling and lack of haircuts. Bah. Not to mention the weather. I guess you learn as you go. I know I am.
I did get a shoot with this little lady and her big brother! Isn't she adorable?!
3 CRACK SANDWICHES - As one of my shoots got cancelled my sister and I decided to hit up a renown deli in Downtown Tacoma. Apparently MSM Deli is where it's at. But we couldn't remember what it was called, but now we'll remember because it's an abbreviation for "Magical Sandwich Makers" and well that's what they were.
Magical.
This Yelp Review sums it up best. My favorite line is "yum yum yum yum sandwiches."
4 NICK MILLER IS MY FAVORITE - BuzzFeed is great for many things, but I especially love this piece they put together on 37 Reasons why Nick Miller is the Perfect Crush.
Seriously. He's my favorite.
If you don't watch New Girl, you need to. It's pretty much the best.
5 APPARENTLY RYAN GOSLING IS TAKING A BREAK FROM ACTING - Did you guys hear about this? It kind of makes me sad. In the height of JT's 20/20 album debut (fellow Mickey Mouse Clubber) Ryan Gosling is taking a break of some sort.
I guess we'll have to watch a lot of Crazy Stupid Love and The Notebook during this absence. Or we can bring it back old school and watch Remember the Titans.
Side note: love this pic of him wearing Warby Parkers. Seriously - I need to get me a pair. Or five.