Happy Tuesday friends. It's 11 AM and I'm at Starbucks. Coffee is good.

Anyways - here are five things going on in my life right now.
1 AVENGERS - Along with a gazillion other people out there I watched the Superhero Blockbuster "The Avengers" and was floored by its awesomeness. I've been a big fan of the X-Men movies, so it makes sense to love more Marvel goodness.
Not to mention, it was directed by Joss Whedon. That man is pure genius.
Favorite Parts (without any spoilers):
tossing him like a rag doll
ScarJo being totally BA
every hot superhero on screen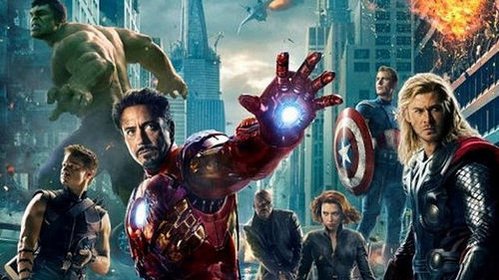 2 SPRINKLES CUPCAKE ATM - On Saturday my friend and I decided to hit up the novelty cupcake store Sprinkles in Beverly Hills. It's one of those must-stop places (like Magnolia Bakery in NYC). Incredibly small. Line going out the door.
But you can easily bypass that long line by using the snazzy Cupcake ATM. Just plug in your order, watch the little arm grab your cupcake, and voila! Eat & enjoy!
Although, I'm pretty sure $4/cupcake is a bit high priced. And that I can bake better cupcakes myself. I may be a bit biased though :)
3 CINCO DE MAYO FAIL - I was busy hanging out with a friend this weekend and all I wanted to do was get a margarita! Between the movie, the cupcake ATM, and hitting up 3 different shopping centers … I never got my margarita!
Can it still count as Cinco de Mayo week? Can I get a margarita later this week? I'm going to say that's OK.
4 NEW PASSION PIT - Yeah. Enjoy.
5 A PAINTING CONUNDRUM - I have this space above my bed that is perfect for some artwork. Which is great considering one of my friends gave me this print from IKEA. It's beautiful … abstract purples, pinks, and yellows. And a naked woman.
So yeah. I'm thinking of ways to paint over part of it. I might give her a t-shirt. Or maybe make it more of a mountain landscape or something. Or I've thought about doing other types of paintings. There's a lot of inspiration on Pinterest. If you have any ideas, let me know!