Hi y'all. How's your Tuesday going? Mine only has a few more hours but so far it's been good. Actually it's been a good week overall. Here are some reasons why:

1 NEW MADEWELL STORE IN SANTA MONICA - To my pleasant surprise, I stumbled upon the store opening of the newest Madewell store that happens to be in Santa Monica. I decided to browse through the lovely displays of clothing that I cannot buy right now and decided to go with with a lovely pair of blue earrings. A tiny gift for myself. Just because.
Plus I got a free tote. Boom.
Thank you Madewell :)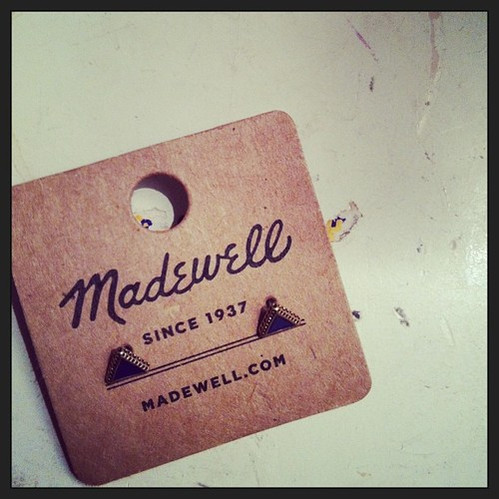 2 GOT TO SEE THE DUPLECHINS BEFORE THEY HEADED OFF TO PNG - How crazy is it to have a tiny two-hour window for some Armor/Imago people to meet up in LAX?!
What in the world am I doing in LA?
And Ryan Lampe lives here too?..*still can't get over these first two points*..
And the Duplechins are going to Papua New Guinea via LAX?!
Yes. We got to see them and meet their two beautiful little blonde girls! They might just have the bluest eyes ever. And to see Kevin! I have not seen that kid in over five years. He used to talk in mathematical equations in a southern drawl and IM weird things like "The pope: is he sexier than Kevin?" … oh and Strawberry Swirl!! Best song ever.
And now the entire Duplechin clan is going to PNG to live in a jungle to translate a Bible. So crazy. But amazing!
So thankful for tiny two-hour windows and flexible schedules.
3 I GOT RECOGNIZED - So this was a first for me. On the way to LAX to see the Doops, Ryan and I stopped by In-N-Out to grab some burgers for our friends. And we ran into our friend Eden who just happened to pick up some people.
So I picked up our food and return to the table, they were laughing because the girls actually recognized me from this video. It was hilarious! So we laughed about that for awhile. It was awesome..
4 THE ANIMAL PRINT SHOP - You guys! I'm totally obsessed right now with the Sharon Montrose' work with these animal portraits. You probably think I'm crazy but whatever.
I've totally heard of this series before but I don't know, recently I've wanted to do more with my Chinese "heritage" … (I'm as Chinese as the rest of my family!). Anyways. I'm a Rooster. My sister and cousin Gracie are Sheep. Both my Popo (grandma) and my brother are Rabbits. My dad's a Tiger. Etc etc.
I've wanted to play off these signs for awhile now and now I think I found what I want! I want these prints. Obviously, it won't work for my uncle and middle brother (Rat) or my aunt and cousin Jonah (Dragon). But the rest of us - yes.
5 THE LONE BELLOW - This night. Just magical. Great friends. Good food. Absolutely amazing music. Need I say more?
Go buy the album. It will blow your mind.