Hello friends. Happy Tuesday.

To say I had a FULL WEEKEND is an absolute understatement. It was filled to the brim with awesomeness. It's probably the reason why I'm so exhausted today (and the fact that I missed my Monday Music Share yesterday - my bad).
But anyways. Here goes it. 5 Things:
1 HELP PORTRAIT - So last year I had mentioned that I wanted to but completely forgot about doing Help Portrait. Half the battle was being in Seattle and not exactly having a team to turn to, but this year things were different. For one, I had someone who knew "people in need" so I talked to her about it. And so for the last six months we've been planning and praying about this event.
With the help of Reality LA and our entire community group we were able to bless over 40 families with the full treatment: toy & clothing drive, child care while you got your hair & makeup done, and a professional portrait session done. And in a week or so each family will receive a free framed 8x10 and a disc of all their top images.
Even though we worked a full, full day we were there together serving in our strengths. And in that, God totally blessed us along with blessing all those families. One mother told me that this was her very first family portrait ever. Another mother said that she's never felt so pampered in her life - that it was like a dream and that she didn't want to wake up.
You guys - this was by far one of the best weekends I've experienced both as a photographer and just being part of the Church body. We're meant to serve and love others and work in the giftings that He gave us. And that day, we saw it all firsthand.
Best team ever.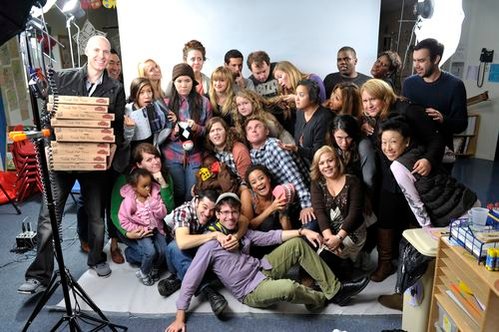 2 SATURDAY WAS HARD CORE, BUT SUNDAY WAS FUN DAY … AT DISNEYLAND - Um yes. Please and thank you.
One of my regrets of living in Orlando was not going to Disneyworld enough. I literally lived like a half hour away and only went once. So I promised myself I'd get an annual pass so I can go more often.
I wasn't sure how great it'd be (I went to Disneyworld a couple summers ago and it was sort of lame - I'm more of a rides/adrenaline junkie girl). But dude. This trip was OFF THE HOOK. We went to both parks and having a friend in a wheelchair helped! No wait lines for us!
The best parts include the Hollywood Tower of Terror, the California Scream roller coaster ride, beating Matt Cox at the Toy Story Game, random dance parties, and WORLD OF COLOR. Having a bunch of grown adults singing along to 30 minutes of Disney songs to projected cartoons on colorful lit up water - PRICELESS.
Best day ever. Can't wait to go again. Because we can. 200-some days of the year.
3 WEST COAST ROAD TRIP - In the midst of massive amounts of Instagramming that was happening that day, a conversation started up among friends. West Coast Road Trip - RELEVANT Edition is happening sometime next year.
A little bit of Los Angeles. A little bit of San Fran to see the Duty's. Then back up home to Seattle where we can see Jesse Penico and Heather C. Yes. This is happening.
4 NEXT ON DECK - Since Help Portrait is mostly done (still have to do the prints and framing, but almost there!), I finally have a bit of breathing space for the next couple projects.
This is what's in the hopper:
2 new commercial gigs - what what
Seattle/Tacoma portrait sessions to plan
a West Coast road trip to plan
a Reality Westside camping trip to plan
setting up a photo booth for a wedding (hopefully one that prints)
5 STAR TREK / HOBBIT - Projects aside. It's almost movie time! This Thursday I'm watching the midnight showing of "The Hobbit." I'm kind of behind my game since I haven't watched the LOTR Trilogy recently (for obvious reasons) but I'm still excited about it. And not only that, we're going to get an 8-minute preview of "Star Trek."
Sweet.